Caio Terra Seminar July 20 & 21
Professor Caio Terra will be coming out to teach a no-gi seminar this July on the 20th and 21st (Saturday & Sunday) from 12pm to 3pm each day.  The cost of the seminar will be $75 to attend one day or $105 to attend both days.  The seminar will have limited seating so please click the link below to register soon if you plan to attend!
Upcoming AZ Brazilian Jiu Jitsu State Championships on June 29 & 30!!!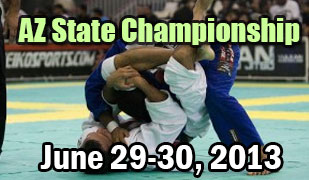 The Arizona Brazilian Jiu Jitsu State Championship tournament is just around the corner on June 29 & 30.  If you are planning on entering the tournament please visit gdjjevents.com and register soon!  The early registration deadline to save money is this coming Monday (June 17) by 11:59 pm.  The late registration deadline will be the following Monday (June 24) by 11:59 pm.  This is a really well run tournament and always a lot of fun to compete in.  When you register please choose CTBJJA as your team from the drop down menu and write Kevin Scott in the instructor box.